Discover more from Something to Write Home About
Resources to meet the challenges of an aging society
Winter is here
And that means it's time to pay attention to light and color
As the days get shorter and it gets dark earlier, light and color could use some attention, especially in our homes. We can follow Frederick the Mouse's example. Frederick gathers sunlight and colors during the summer to share with his community in the dark, cold winter. 
Like Frederick and his mouse friends, we could use a little more light and color in the winter, too. Especially as we age. Did you know that older eyes typically need 50% higher, general light levels in a room to see the same as younger eyes? To see fine details, they actually need three times the amount of light as a younger person would need. We may not be able to store up sunlight to break out as the days shorten, but we can easily make other adjustments that are just as impactful. Improving lighting and light perception in our homes by using lighter colors for walls or fabrics and brighter bulbs is a simple and enjoyable way to compensate not only for the season change, but for the changes our eyes undergo as we grow older. 
Better lighting makes a big difference, not only in terms of safety, but also with regard to quality of daily life. 
A number of years ago our Aging 360™ team was invited by Rebuilding Together, a nonprofit organization that does essential home repair, to assess the home of a veteran, E,  and his wife, A,  in San Francisco in order to advise them on age-friendly home improvements. The couple lived in a typical San Francisco home, on a hillside. On the first floor, there was a garage and a small living area that had access to the rear yard. The main living area and kitchen were on the second floor. The staircase connecting the two levels was painted black with only one light fixture at each level.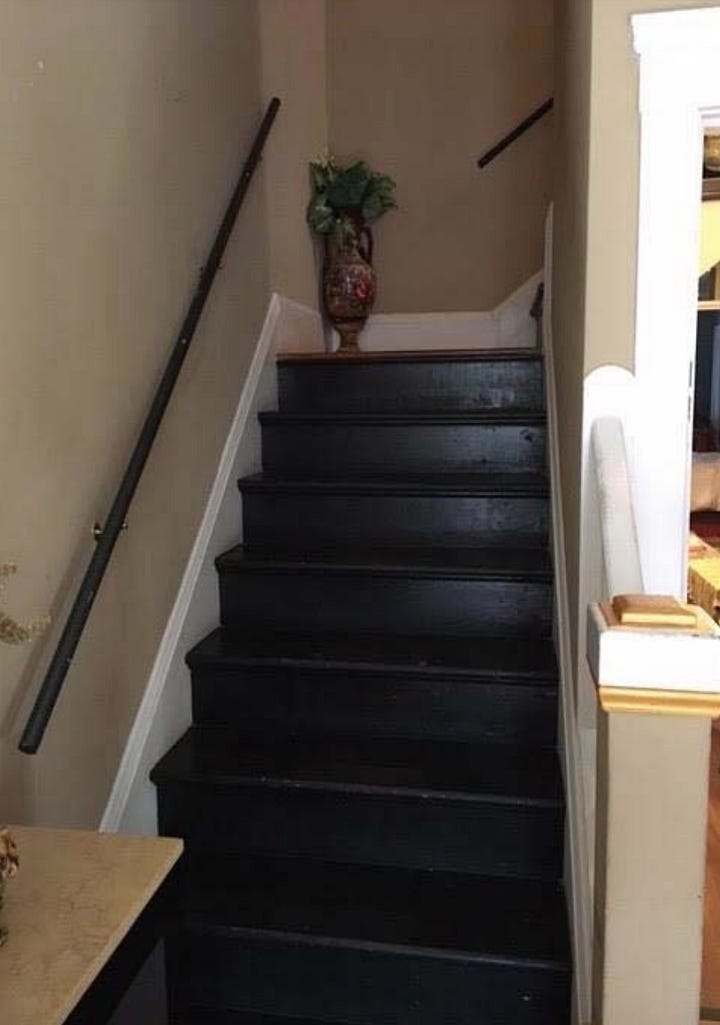 A ran the household, taking care of her mother-in-law who lived with them and supporting E, who avoided the stairs as much as possible because he had knee problems and spent most of his time downstairs. A accommodated him by bringing his meals to him. This meant A had to run up and down the poorly-lit stairs multiple times a day, food in hand and one day she fell. Family dinners became less and less common. 
We couldn't simply get rid of the stairs, but we could make it safer for A to care for her family by making them brighter. We recommended simple, low cost  improvements that would bring more  light to this critical part of the couple's home. 
First of all, the stair needed to be painted a lighter color and each step needed a strip of a contrasting color at the nosing, either painted or applied so that steps would become more visible. Second, the light fixtures at the top and bottom of the stair needed to be cleaned and higher intensity LED bulbs needed to be installed. They wouldn't need to be replaced for many years. Lastly, we made a more ambitious recommendation: new railings on both sides of the stair with recessed battery-powered LED light strips on the underside to light the steps and side walls. 
Aiming high and identifying the ideal solution gives everyone involved a vision to work toward, even if it cannot be 100% executed.
Thanks for reading Something to Write Home About! Subscribe for free to receive new posts and support our work.
---
LIGHTING TIPS FOR YOUR HOME
Standards/Facts: 
Typical functions of a light fixture: Task lighting (to see fine details), Ambient/Uplight (to brighten a room), and Transition Lighting (to alert you of a transition, for example, step lights).

Light Expression: Light bulbs have different 'warmth' expressed in Kelvin and they also render colors in different ways. You should strive to buy a light that meets the criteria below:

Color Temperature: Around 3000K (Kelvin)

Color Rendition (CRI): 90

Brightness: The brightness of an incandescent  bulb is expressed in wattage, the brightness of LED fixtures is expressed in lumens. (Note: A helpful guide to buying LEDs).

LEDS: LED lights have become the standard. Because of their different technology, they can be smaller, they last for a very long time and are more energy efficient. Click here for more information.
I believe in choice : 
Lighting is part of making a space. I do not think that it is necessary to light every space evenly. It can create a beautiful atmosphere to have a pool of light instead of lighting a whole room. People often use light bulbs that emit very cold light in their homes. It is important to buy a light that has the right temperature (3000K). Lighting does not only impact visibility, but also our mood. 
Tips: 
Experiment with inexpensive, battery-powered, stick-on LED lights to test where you need more light

Color is part of the light in your home. A brighter or lighter color makes a room feel more animated and brighter. 

Pay attention to color contrasts. Older eyes do not perceive contrast as well as younger eyes, so do not be shy: use strong colors. Lighter color does not mean you have to stick to pastel colors. By the way, paint colors also come in a full color spectrum (meaning they do not contain black), which makes them richer. 

Many paint companies give you the opportunity to simulate a color choice online: Color simulator or you can do it the old fashioned way and do a brush out!
Some other thoughts: 
Colorful fabrics for curtains, furniture, pillows, or bathroom towels are another way to brighten up your home. 

Color contrast, especially the color red, also supports cognitive functioning. A red toilet seat or red dinnerware and tablecloth can support everyday activities for people with cognitive impairments. Here is some related research, 'The Red Plate Study'.

LED's are used and 'packaged' in different ways, from strips to bulbs. The LED technology also opened the door for Smart Bulbs, like the Phillips Hue. This is an internet-capable LED Bulb that can be controlled from the phone. You can change brightness and color on these bulbs to create different atmospheres. This can be helpful for people living with dementia that are often very sensitive to qualities of light.