Discover more from Something to Write Home About
Resources to meet the challenges of an aging society
Welcome home
Lessons from an Aging 360 workshop for SROs
A few simple inexpensive accessories can increase our sense of connection, safety, comfort, and delight—key principles for feeling welcome in one's home in later life. 
A recent Aging 360 workshop, led by At Home With Growing Older for the Curry Senior Center at the Cadillac Hotel in San Francisco, demonstrated this beautifully. The Cadillac is one of the oldest residential hotels (or SROs, single-room occupancy) in the city's Tenderloin District. SROs originated in the mid-1900s to accommodate transient workers; and over time, they've become an important resource for housing very low-income residents or those experiencing homelessness. 
SROs were not designed to be long-term housing, but at the Cadillac Hotel, you can stay as long as you like. Naturally occurring retirement communities (or NORCs), a term originally coined for apartment buildings with a majority of aging residents in New York City, have become a reality for some SROs. So, it's important to consider how residents can age comfortably in a room meant for short-term occupancy. 
This Aging 360 workshop for SRO residents offered an opportunity to explore how simple adaptations to a small space can improve health and wellbeing as well as instill confidence in participants that such adjustments are doable and make a difference in their quality of life. We selected items from the Aging 360 toolbox that wouldn't permanently modify the room, fit into the building's regulations, and were very inexpensive—especially when ordered in larger lots. 
The accessories participants received during the workshop provide a great start for anyone interested in aging in place with confidence and delight. Here are examples of how they chose to use them.
A seat pad, for comfort and safety

A hanging glass planter, for delight and connection

Two adhesive hooks, for safety and delight 

Two battery-powered LED stick-on puck lights, for safety and connection

A tray, for connection and delight

A resistance band, for comfort and well-being
A seat pad can travel with you. Anna hung hers on the handle of her walker and used it to cushion the hard, plastic seat of her chair in class, so she could sit longer and focus. Somebody else placed it behind their back to shorten the seat depth. To some, it felt good to hug the pad, while others were delighted by its color. 
Serving as a special container for a few cherished objects and sparkling in the sunlight, the glass planter brought delight to residents and offered a simple way to connect with the time of day and the outside world. 
It takes one third more time and a third more room to get around in a wheelchair, according to a participant from another workshop. It also requires more room to move around with assistive devices, more room to exercise to keep oneself mobile, and more organization to locate misplaced items in a crowded room. Hooks offer a handy way to create space and order. They get things off the floor and separate them by use. They also can be mounted at a level and in a location that fits our various body types and habits. 
We thought that most people would use the stick-on LED puck light as a night light or else over the sink in their room, but one participant used it as a beacon on the table near her door to call attention to the things she needs when leaving her room. Older eyes require more time to adjust between different light levels. Higher light levels and color intensity help improve visibility, as well.
A tray plays many roles in age-friendly living. Because it acts like a mini table, it makes meal times special and helps bring more attention to what we eat. It also encourages connection, and makes it easier to carry a meal somewhere else, which invites us to sit with others or enjoy a view. At the Cadillac, some residents used a tray to carry their plate from the microwave into the community room. They used it as a miniature table in bed and as a placemat to keep their multi-purpose table clean. 
What exercises can you do in a limited space? One option are resistance bands. They come in different colors and strengths; and as you progress, you can share them with others. Though you may go for the strong one right off the bat because it comes in your favorite color—fuchsia, a color that challenges you and brings you delight.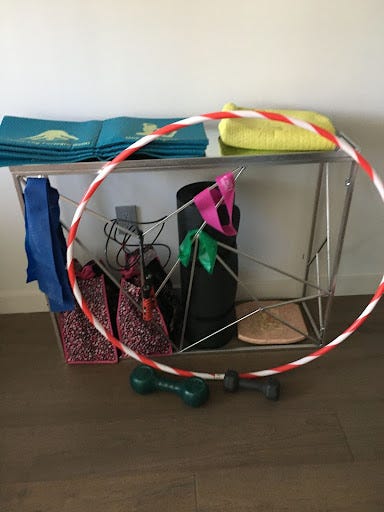 Feeling welcome in one's home, whatever its size, especially in older age, requires a space that fits one's unique needs. Making our home more age-friendly is a win-win not only because it's more enjoyable for us; it also makes it easier to invite others in and to stay connected with the world outside. It does not need a major renovation or a handyman to get a start on this!
---
INEXPENSIVE AGE-FRIENDLY ACCESSORIES:
Chair Pads: 
Look for a firm, solid color chair pad about 1.5 inch to 2 inch high. We got ours from Homegoods.com on sale for $3/pad but there are many other sellers.
Hanging Glass Planter:
They are versatile in use and ideal for a small space. We got ours donated but it seems that they start at about $8/piece and are often packaged in pairs.
Hooks with adhesive backing:
The most common brand are 3M Command Hooks. They is a choice of different weight ratings. They come in packages of (2) at about $12.
LED battery powered stick-on puck lights:
LED puck lights come either rechargeable or with batteries. We chose batteries because there are only one or two electrical outlets in many old SRO rooms. There are many brands. We chose a six pack from VICOX at $12.79
Serving Tray:
We chose the Lyellfe 8 Pack Fast Food Serving Tray, 15 by 10-Inch, because it had a smooth surface, the right size, came in nice colors and was affordable. The pack of eight sells for $22.49
Resistance Bands:
They are offered by many different retailers and come in packs of four to five bands in different strength that have different colors. The most important thing is to put them in a visible spot - for example at the door handle to the bathroom so there is always an invitation to use them.
Tips: 
Most of these items are sold in multiples. This could be a good opportunity to team up with others to order them to benefit from a lower per unit cost.