Discover more from Something to Write Home About
Resources to meet the challenges of an aging society
It's tax season and I'm continuing the tradition of meeting with my longtime tax consultant. We both have enjoyed catching up in our tax meetings over the years and watching each other's hair getting grayer and grayer. Through our conversations (as well as documented through my modest taxable income), my tax consultant knows that I run a nonprofit, At Home With Growing Older. At our recent meeting, the conversation landed on how to make her home more age-friendly. She lamented that she might need to install a grab bar in her bathroom. Even though she didn't need it yet, she felt it was a good idea but dreaded that installing a grab bar in her bathroom signaled her entry into old age, aka weakness and decline. She also said that she was more ready to do it than her husband. Their perception of grab bars as more medical device than bathroom accessory kept them from using their bathroom with confidence and ease. Clearly, she was worried. 
This was, of course, the perfect opening  for me to make my argument that grab bars (or safety bars as I refer to them) should be featured in every bathroom, an accessory as standard as a soap dish or mirror. Holding onto a safety bar is not a sign of frailty but smart, as it allows you to do what you need or like to do with greater stability. We all can benefit from being able to grip something steadying—at any age. It's similar to a climber relying on a climbing hold or steel rope, installed to ensure safer access to a treacherous passage, like at Half Dome in Yosemite National Park. 
I passionately described my favorite safety bars, pointing out how in your own home you can use whatever material you prefer—from a beautiful piece of driftwood (like the one in my shower, found at Limantour Beach in Pt. Reyes) to a custom railing made from a kind of wood that holds up well with moisture, such as teak or mahogany. 
Luckily, I had my laptop in tow and could show her some examples of safety bars and holds from the Aging 360 workshop, a program our nonprofit offers for people who are interested in aging in place. We talked about how aging is like an extreme sport; you have to manage your risks, practice, and both require the right accessories and gear. Inspired by the sport of climbing, you might even consider installing a climbing hold in addition to a safety bar. It's fun, comes in different shapes, and communicates a sense of strength rather than decline. 
Last week when I sent in my authorization to file my taxes, she responded and thanked me for our conversation, adding that she had ordered the Choreograph Barre from Kohler, one of the options I had shown her. She also said that she planned to sign up for the next Aging 360 workshop to learn more about other age-friendly design solutions for her home.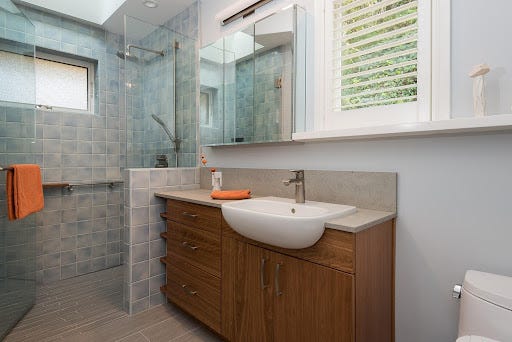 Because of the "acrobatic" movements involved when using a bathroom—stepping into, over; getting up and sitting down; reaching over and up—and often on slippery and hard surfaces, the bathroom is the most common area for falls, according to many studies, including this one by Stanford Medicine. Just imagine a climber having to navigate wet rock! Installing a safety bar in the shower and/or alongside the toilet not only mitigates the risk of falling, it's smart. 
---
Practical Tips: SAFETY BARS
 Standards:
General: Thanks to the American with Disabilities Act(ADA) and building code requirements for public spaces there are very precise standards for the installation of safety bars around toilets and bathtubs/showers. This is a good place to start since these standards have evolved over many years. Here is the link to a government website that explains ADA requirements with diagrams. Most of us though may only install one safety bar at the long side of the shower/bathtub and one along the toilet plus maybe a shorter vertical grip or hold for getting in and out of the shower/bathtub. 

Length: Typical length for safety bars in showers/bathtubs and along a toilet are 48".

Height: Typical height is between 33" and 36: to the center of the bar.

Diameter: Typical diameter is between 1.25 and 2". This is a comfortable circumference to grip. 

Distance from wall: The typical distance from the wall is 1.5". That gives enough space for your hand between the bar and the wall without scraping your knuckles. 

Mounting: It is best to mount the grab bar into studs or plywood that spans between studs (what builders call blocking) behind the finished wall. This is the right thing to do when remodeling a bathroom and you can prepare for it before installing wallboard and tile. For an existing bathroom with a tile wall, there are installation videos on youtube that show how to secure a safety bar to a wall assembly of tile and sheetrock rather than a blocking. Here is an example and another one  
I believe in choice:
If you have a beautiful piece of driftwood that is long enough, use it and mount it with stainless handrail brackets. It is an additional stimulant and delight to feel the texture or quality of a natural material.  

There are many safety/grab bars on the market, two of my favorite ones are the 'barre' from the Kohler Choreograph series and the Latitude by Gatco.
Tips:
Even though there are standards that are a great guide for what works for many people, we are all different so it is worth checking to make sure what height feels best for you for a safety bar. Every inch makes a difference. 

A short, vertically mounted safety bar or grip such as a climbing hold is often useful for balance when stepping in or out of a bathtub

A bathtub handle that clamps on to the rim of the tub is also helpful as support for the tricky action of stepping in and out of the bathtub. 
Some other thoughts:
A safety bar is a useful bathroom accessory at any age and should be in every bathroom.